Scout Programs
Scout programs help build skills and nurture friendships.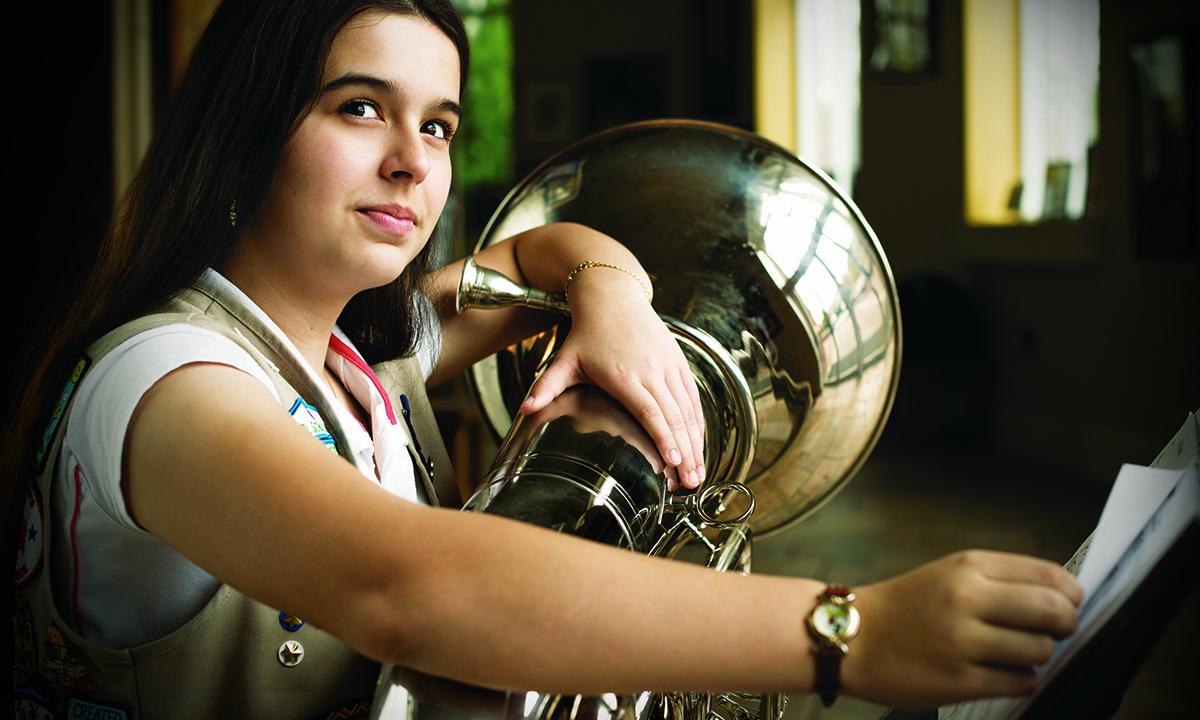 Being There: A Scout Program Helps a Young Lady Become a Young Leader.
Girl Scouts has been a part of Nataly Beacham's life for as long as she can remember. Her single mother Andrea, born in Colombia, has worked as an outreach coordinator for the Girl Scouts of Greater Atlanta since Nataly was three.
"I started as a Daisy and am now a Cadette," said Nataly. "I appreciate the values Girl Scouts teaches. As an adult I would like to volunteer and help future generations of Girl Scouts."
Nataly exudes confidence, apparent in her passion for music and choice of instrument, the tuba. Andrea credits involvement with Girl Scouts as paving the way to her daughter's self-assurance and determination.
"Nataly knows what she wants in life," Andrea said. "She encourages others and is a leader among her peers."
In the fourth grade, Nataly was awarded a scholarship to the Greater Atlanta Christian School, where she now pursues her musical goals through the marching band and involvement in theater. She also participates in cheerleading and soccer, and recently won second place in an international junior author's contest for her seven-page poem entitled "Broken." As a high school student, Nataly already knows her first choice university and possible majors.
"I hope to study musical education and neuroscience at UC Berkeley," she said.
With her sights set on the Gold Award, Girl Scouts' highest honor, Nataly plays an important role in 
her community. She was invited to participate in the Miss Media Program, a small group of Girl Scouts interested in the broadcast field, who promote the organization through video and speaking engagements. Miss Media allows bilingual Nataly to serve as an ambassador to her local community, a role she relishes.
"Girl Scouts has helped me become the outgoing person I am today," Nataly said in a presentation. "It has challenged me to try new things and persevere toward my goals."
If you represent a nonprofit organization that is doing great things for your community in Florida, Georgia, Alabama, Tennessee, South Carolina, North Carolina, or Virginia, you can begin the process of requesting support here. Our areas of focus are youth, education, reducing hunger, and alleviating homelessness.